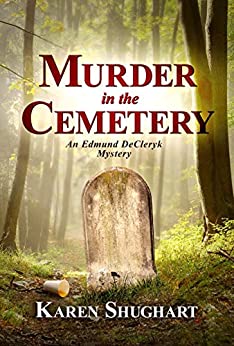 Murder in the Cemetery: An Edmund DeCleryk Mystery (Autographed Copy)
Local Author - Karen Shughart.
"Residents of a charming, quaint, maritime village on Lake Ontario are shocked when they learn that another murder has occurred in their bucolic coastal town. This time the victim is the childhood friend of the criminal consultant hired by the police chief to investigate the crime. The quiet setting of a bright spring morning is the antithesis of the appalling way the victim was killed in an historic cemetery where casualties of the War of 1812 are buried. This suspenseful thriller with an historical subplot and surprise ending will make lovers of maritime cozy mysteries want to read more. In this page-turner of a tale of murder and deception, Ed and Annie discover a collection of artifacts, with one missing piece, during a visit to a museum in London, England. The discovery gives them clues as to why the victim was murdered, but they still don't know whodunit. Now back in their quiet village, a chance encounter at the museum and the appearance of a dusty, out-of-print book written by a former New York governor in the 19th century, start to bring the pieces of the puzzle together. But the killer is still out there plotting and planning until the very end. This clean fiction novel contains no graphic violence, explicit intimate scenes, or cursing, but there are lots of exciting twists and turns, and a surprise ending. Helping Ed discover secrets that have risen from the grave and the reason for his friend's murder doesn't deter Annie from cooking for friends and family, and the book offers gourmet recipes she prepares for them. If you are wondering about the story of the previous murder case, consider reading Murder in the Museum."
Paperback:

 

279 pages
Publisher:

 

Cozy Cat Press (January 16, 2020)
Product Dimensions:

 

6 x 0.7 x 9 inches